With death comes decisions, and a lot of them. One of the biggest is whether to have your loved one buried or cremated.  For the sake of this post, let's assume that you have selected cremation. 
You will have to decide how you would like to receive the cremated remains 'ashes' from the funeral home. A basic cardboard box or plastic container will be provided. Are you satisfied with this option, or would you like to purchase an urn?  The world of cremation urns can be vast and can quickly become overwhelming. Here are a few things to consider when shopping for the right urn:
How will the urn be used?
Will it be displayed at a memorial service or in a home?
Will it be interred in the ground in a cemetery? Wood will break down over time. Will you be ok with this? If this is a concern for you, an urn made from marble, metal or fibreglass would be a better option.
Perhaps the urn will reside in a columbarium niche, in which case be sure to check size and material requirements. The cemetery may have some very strict rules to consider.
If you are travelling by air with the cremated remains 'ashes', you must use a container that can be scanned by airport security and have all documentation that the airline requests – this usually includes the certificate of cremation. Metal & stone urns are not a suitable option in this case.
Are you are choosing to scatter the ashes and, if so, on land or in water? Do you want to keep the empty urn afterward or use one that will dissolve in the water?
Passages Eco-Friendly Scattering Tubes™ are designed and engineered to simplify the scattering process and come in an assortment of designs.
You could also choose to use the temporary cardboard box or plastic container that the funeral home provides and discard it afterward.
And then there are keepsake urns, of which there are many versions. Keepsake urns can include mini urns that are perfect if you or other members of your family want to keep a small portion of the cremated remains.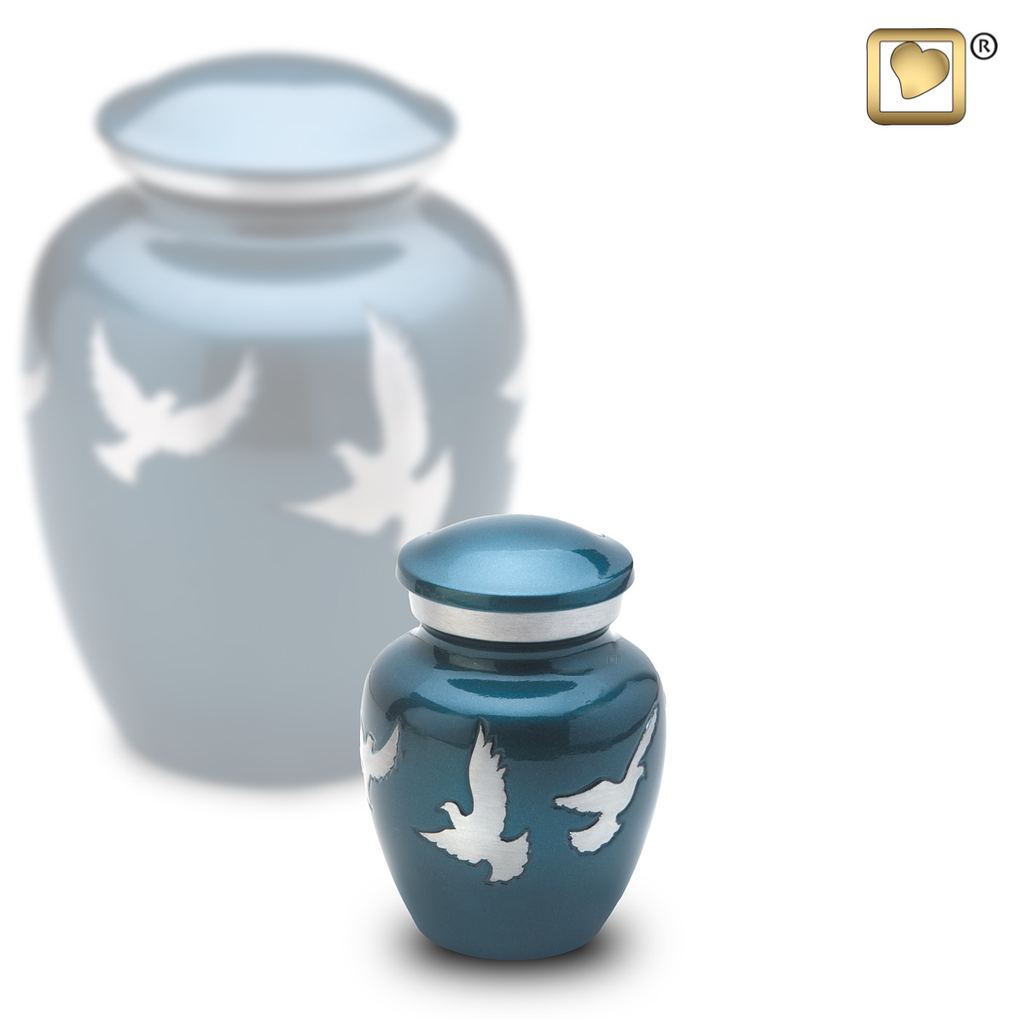 There is also cremation or memorial jewelry; some pendants can house a very tiny portion of the cremated remains 'ashes' and some can be personalized.
Check out our Memories In Glass Collection – A collection of glass ash-infused glass pendants.
How much do you want to pay?
The sky is the limit when it comes to price. It all depends on what you are looking for in an urn and where you are shopping for it.
Buying tip: Most funeral homes have a limited selection of urns and charge a premium for them. There can be a considerable price difference between buying an urn online and the same urn at a funeral home.
Does it have to be an urn?
Maybe something more custom would be better suited. Think about your loved one. Is there a cookie jar, an heirloom vase, a jewelry box… heck, I've even seen an exhaust pipe and a scuba tank modified to become an "urn." Your options are endless.
Time Restraints
How much time do you have to make your decision? With cremation, as opposed to a body burial, there is a larger window of time available for you to make your selection. If you can, take a bit of time and don't feel rushed.
It is our hope that this information will make the task of selecting an urn less daunting.
Have other questions about selecting an urn that aren't answered here? Please contact us and we'll be happy to help!