Funerals are notoriously known for being super expensive but are they really as pricey as everyone believes?  The answer is a yes and a no. As with any purchase it depends on how many "extras" you select and where you choose to buy them from. 
To keep things simple lets use term Funeral which generally means that the body is present at the service with a burial to follow.
A Memorial Service or Celebration of Life indicates that cremation has already taken place and an urn may or may not be present.
It is important to understand that the same (almost) options are available to you
whether or not you have selected cremation or burial.
How much will it all cost?
The Funeral Home will have a General Price List. It must be available to you when you walk through the door. It is pretty standard and is based on how much you require them to do.
On a General Price List you can expect to see these line items:
Professional consultation
Co-ordination of the services
Registration and documentation fees
Transporting the deceased from the place of death
Sheltering the remains
Cremation
Embalming (which is not required by law)
Funeral vehicles
Use of facilities
Death certificates and or certified copies.

In addition to those basic service fees the funeral home will also want to sell you the casket, or urn and perhaps memorial jewelry, stationary packages, video tributes, estate fraud prevention, flowers, catering and depending on the funeral home there can be other items available to you.
There are also plenty of other costs that can add up quickly that are above and beyond what is on the General Price List.
Some additional costs to consider are:
Cemetery fees – purchasing a plot for a full body burial or interment of cremated remains, opening and closing fees of that plot and likely you will be required purchase a grave marker.  These costs can easily total in the thousands.
Obituary Notice – This is one where the price often catches people off guard.  Cost will depend on which newspaper the notice will appear in and of course the length of the notice.
Flowers – If you are ordering flowers such as a casket spray expect them to come with a surprising price tag as well.
There may also be church donations, clergy honorariums, musicians…..
Where can you save money?
Obviously if you choose less you pay less. I don't think that should be your only option.
Consider purchasing items online or going directly to the source; you can often get a better deal on flowers directly from the florist since you will eliminate the funeral home mark up.
Order the urn online. Trust me ~ it's worth it
There are also plenty of places to buy a guest book – or how about have friends and family sign the urn! This plain white fibreglass urn would be perfect for that.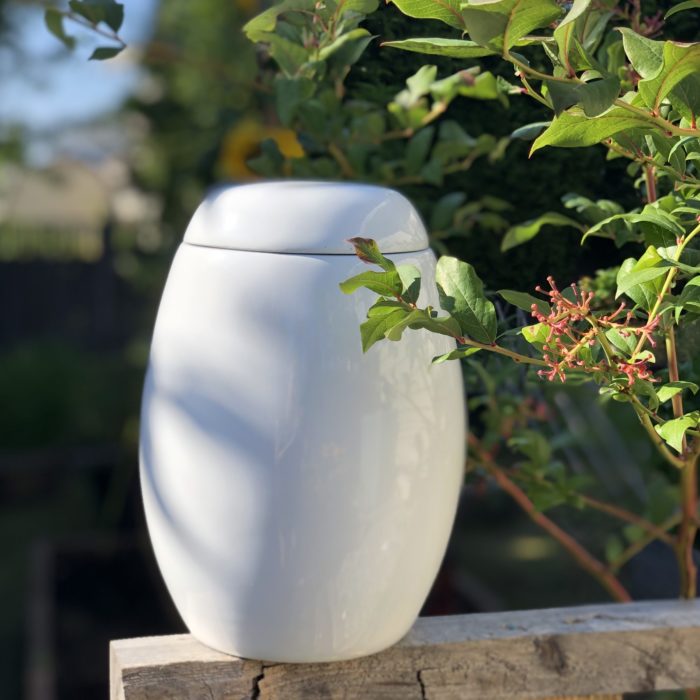 More often than not there is a member of the family that is capable (and may find it therapeutic) to do up a video tribute…
You can save thousands of dollars by purchasing the casket online – no funeral home will encourage you to do so, in fact many will tell you tales as to why you can't but I assure you ~ you certainly can.
Traditionally the funeral home was your only source for
purchasing memorial products but those days are long gone!
You now have a great deal of options and the funeral home cannot refuse to accept the items you've purchased nor can they charge you a fee to accept them.
Shop Online
I have compared prices from Canadian Online Suppliers vs Canadian Funeral Homes and this is what I have found the price difference to be:
Casket – the exact same one!
Online – $1465.00 plus shipping ($395 by ground) = $2060.00
Funeral Home – (small city) – $3,999.00
Funeral Home (large city)  – $5,758.00
Cremation Urn – again the exact same urn
Online – $295 free shipping
Funeral home – $795
With markups like that it is no wonder every funeral home owner will prefer you to purchase their merchandise. You will also be encouraged to select one of the package deals allowing the funeral home to control which casket and or urn will be included.
Now don't get me wrong, I absolutely do not believe that all funeral directors are out to rip you off.  I feel very strongly that funeral professionals are unique and valuable individuals. I pride myself on having been one for over a decade and am honoured to have served many families during that time.
I am however immensely aware that budget is often a concern. I have made it my mission to offer premium memorial products and cremation urns at fair and affordable prices.