Keep the fingerprint of someone you love with you always. Each fingerprint pendant is custom made and no two fingerprints or designs are ever exactly alike.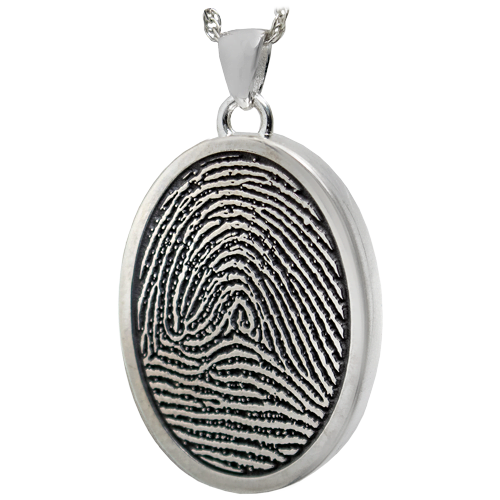 How do I Collect Fingerprints?
Option 1 – You or your funeral director can simply use any ink pad and plain white paper. Black ink works best. Begin by studying the thumb of the person whose print is being taken. Select the area of the finger (any print will work, it doesn't have to be only a thumbprint) that is the most interesting. It is generally the area on the pad of the thumb where the ridges swirl. This is the area you will want to ink. Lightly touch the inked surface twice and then press downward on the paper. Use more of a tapping motion than a rolling one.
When you are satisfied with the look of the prints, take a digital photo of each of the best prints (highest resolution when 1 print fills frame without cutting it off).
Please review your prints, if prints look blurry at 100% on screen, you will probably need to re-shoot with better lighting.
Option 2 – You may use a digital fingerprint scanner which many funeral homes have on hand.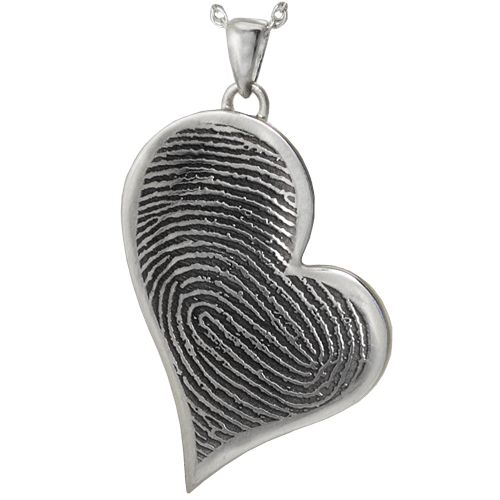 Just about any medium can be used to capture a fingerprint, thumbprint, hand print, footprint or paw print. You can use an ink pad, crafter's ink, makeup or other medium to take the print ~ I have even seen success using the old eye shadow and scotch tape method!
How to Submit Your Prints
Submit your high resolution digital file in JPG format to info@memorialproducts.ca with your name, the name of the person who's prints you are submitting and order number.
I really do feel that it is worth mentioning that you don't need to wait for a death to occur.  Fingerprint jewelry can commemorate all kinds of wonderful relationships!